Digital Radiography
Digital X-rays are a state of the art dental radiography system that enables Drs. Murray and Osterberg to provide greatly improved diagnostic capabilities for their patients, while significantly lessening exposure to radiation.
Digital X-Rays Greatly Reduce Patient Exposure To Radiation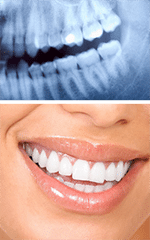 By using digital X-rays, radiation exposure is greatly reduced compared to traditional film X-rays. The digital image of your tooth is instantly displayed on a computer monitor in front of you – no more waiting for the film!  The image can be enhanced and magnified to show conditions such as cavities or structural weaknesses in the tooth.  You can see details in the large, clear images, enabling you to feel much more involved in the diagnostic process.  The chemical waste associated with film x-ray is also eliminated.  Another bonus that digital x-rays provide is the capability to be electronically stored and transmitted for filing insurance claims.
At the Everett dental office of Dr. Murray and Dr. Osterberg, we are committed to bringing the safest and highest quality of care to our patients.  The use of the digital x-ray system continues that commitment.
Other Dental Technology